Dawoon Kim - Between Dot and Dot 8, 2023
Silk screen printing/analogue photography/digital collage
ILFORD DELTA 3200 black & white negative
PORTRA 800 color negative
Inkjet print on canvas, framed in an aluminium box frame
31 x 24 cm
Edition 100 + 2AP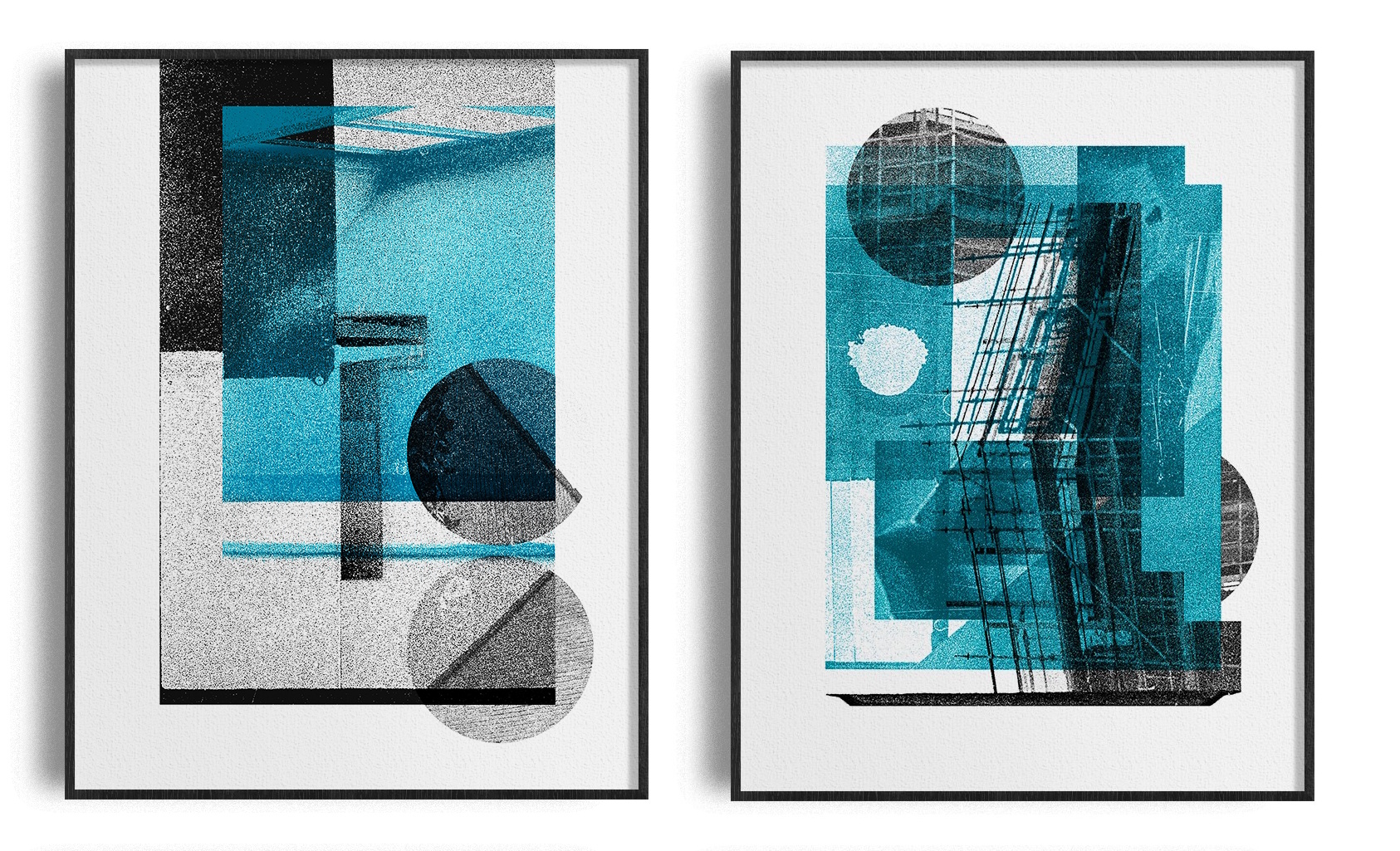 ABOUT THE WORK
The series Between Dot and Dot by the South Korean artist Dawoon Kim reflects the philosophical significance of the small circle that we know as a dot or point. Using analogue photographs, she explains the meaning she gives to the relationship and connection between two points. For Dawoon, a dot is the element that distinguishes the end and the beginning. Like in a book, a sentence starts after a dot and finishes with a dot. The sentence within the two dots could be everything: an explanation, a description of a feeling or a subsequent series of words that could have a meaning only for the creator. The sentence or relationship between two dots, could have infinite possibilities.

The dot is a personification of 'self'. This could be Dawoon as an author, you as watcher or any person walking around the streets of Amsterdam. The "cloud" is Dawoon's definition of 'relationship'. A cloud in the physical world is an accumulation of droplets (or dots) having relationships with each other. Using the combination of these two key media, the two dots and the cloud (relationship), Dawoon explains how she perceives the world around her. 

The photos captured with her analog camera represent moments in which Dawoon experiences the sense of relationship and connection. Especially analog negative films are composed by numerous grains (dots) which close together create an image or a concept. Dawoon tries to discover the aesthetic form within these dots by zooming in.

ABOUT THE PHOTOGRAPHER
Born in South Korea in 1989, Dawoon Kim started her career as a graphic designer in 2010 at an artist's gallery and studio.
To deepen her personal work, she studied crossmedia design at the ArtEZ academy in Enschede, the Netherlands. Inspired by the small circle known as the dot, she has been experimenting with various media based on graphic visuals, using photography, screen printing and other art forms and techniques.
In 2023, she printed a small collection of works titled 'Between Dot and Dot'.

ABOUT THE FIRST EDITIONS
The First Edition is a unique chance to buy work by young talent for an attractive price. Four times a year Foam Editions presents a new photographer, carefully selected by Foam Editions. With this initiative Foam Editions facilitates a connection between young photographers and (potential) collectors. Previous First Editions were made by among others Paul Cupido, Sem Langendijk, Kevin Osepa, Lisette Appeldorn, Sarah van Rij and Suzette Bousema.
This set of Dawoon Kim is exclusively for sale at Foam Editions for a limited period of time, until the end of november 2023.

ABOUT BUYING THIS WORK
The framed print will be carefully wrapped and send as an insured package. You will receive an e-mail with a Track & Trace code when the package is on its way. A copy will soon be on display at Foam Editions, the gallery on the third floor of Foam Fotografiemuseum.
For more information or questions about buying this print, please contact the Foam Editions team.
T. +31 (020) 5516500
E. [email protected]