SOLD OUT / Adam Jeppesen - 27 01 16, 2016
Archival inkjet print on Kozo paper (hand torn)
Signed and numbered on a seperate label
20 x 25 cm
Edition of 20 + 2AP
Including frame 
ABOUT THE WORK
For the occasion of his first solo show at Foam, the Danish photographer Adam Jeppesen (b. 1978) selected one special new print for Foam Editions. In his work, Jeppesen searches for the silence in desolate landscapes and the physical elements the artist surrenders to. This image of a remote, rugged landscape is suffused with a sense of tranquillity, reflection and contemplation.
Jeppesen's work is a search for spirituality, which is found in seclusion, but it also addresses the materiality and transience of the photograph as an object.
The exhibition
Out of Camp
runs until 27 August 2017.
This photo is exclusively for sale at Foam Editions. Each print is hand torn by the photographer and unique.

ABOUT THE PHOTOGRAPHER
Adam Jeppesen (1978, Kalundborg, Denmark) studied at the Fatamorgana School of Art Photography in Denmark. He first gained international recognition with his
Wake
series, which was published by Steidl in 2008. His work has been displayed at various solo exhibitions in Denmark, Germany, Belgium and France, as well as multiple international group expositions. Jeppesen was nominated for the prestigious Deutsche Börse Prize in 2009 and 2016, as well as the KLM Paul Huf Award in 2009 and the Prix Pictet in 2016. His work has been incorporated into various museum collections, among them C/O Berlin, the National Museum of Photography in Denmark and the Denver Art Museum (US). Jeppesen lives and works in Buenos Aires, Argentina.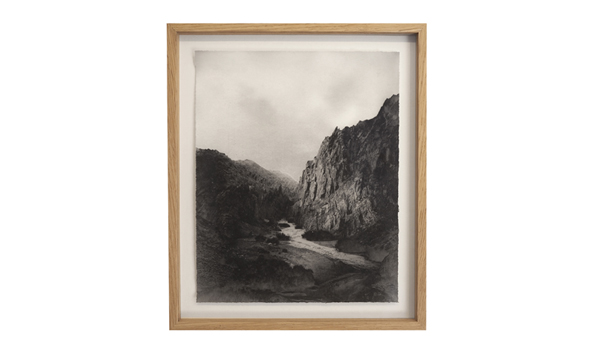 ABOUT BUYING THIS PRINT
The vulnerability of the work requires a careful treatment. Therefore it is possible to order a framed version of this work through Foam Editions. Please contact Editions is you prefer to have a print without frame.
The work will be carefully wrapped and send as an insured package. Shipment of the work will take 3-4 weeks. You will receive an e-mail with a Track & Trace code when the package is on its way.
A framed copy will be on display at Foam Editions, the gallery on the third floor of Foam Fotografiemuseum.
For more information or questions about buying this print or the framed work, please contact the Foam Editions team.
T. +31 (020) 5516500
E.
[email protected]