Frédérique Albert-Bordenave - " [read: quotation mark], 2019
Book/artwork in an edition of 10
plastic, led strip
31 x 21,5 cm

ABOUT THE WORK
The first publication " of Frédérique Albert-Bordenave balances between being a book and an artwork. Taking hybridity as a starting point, it consists of a collection of fragments of different writings, disciplines and media exploring the topics of space and time. Casual phrases used on a daily basis, such as 'it's about time', 'time will tell' or 'time flies', become objects of study, seen through cultural references such as cinema, academic texts, novels or from the unexpected architectural perspective of the artist's balcony. Albert-Bordenave ambitiously gives shape to an age-old discussion of space and time, both elements that are defined by their indefiniteness, which is visualized by the very shape of the book. The transparent pages can be read individually, but also appear as windows to the next page, allowing us to see the architecture of the space-time continuum a book itself essentially is.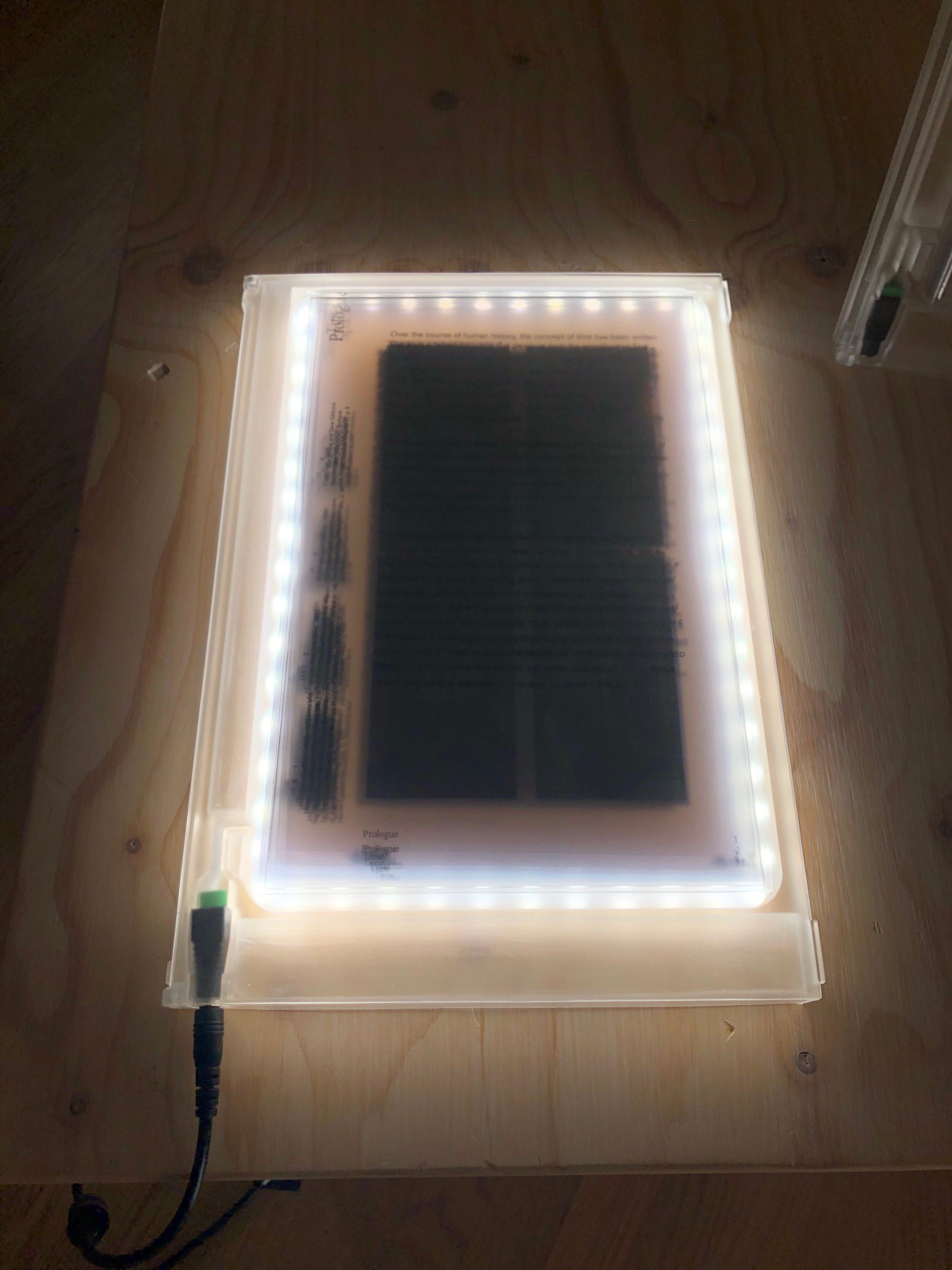 ABOUT THE ARTIST
Frédérique Albert-Bordenave (1994) is a Canadian-born, Amsterdam based artist who graduated in Architectural Design. In her work Frédérique explores and speculates on alternatives to our spatial and temporal perception. Albert-Bordenave was selected for the 3Package Deal programme of the Amsterdam Fonds voor de Kunst (AFK) by the coalition of De Appel, Bureau Rietveld and Foam in 2020.
She also works as an art director. 

ABOUT BUYING THIS WORK
This work will be carefully wrapped and send as an insured package. You will receive an e-mail with a Track & Trace code when the package is on its way. 
For more information or questions about buying this work, please contact the Foam Editions team.

T. +31 (020) 5516500 
E. [email protected]