Kirwin Lonwijk - Staring, 2019
Inkjet print, framed in a deep white wooden frame with art glass
Print: 19 x 15 cm, including frame 24,2 x 20,2 x 3 cm
Edition of 100 + 2AP
Signed and numbered on a separate label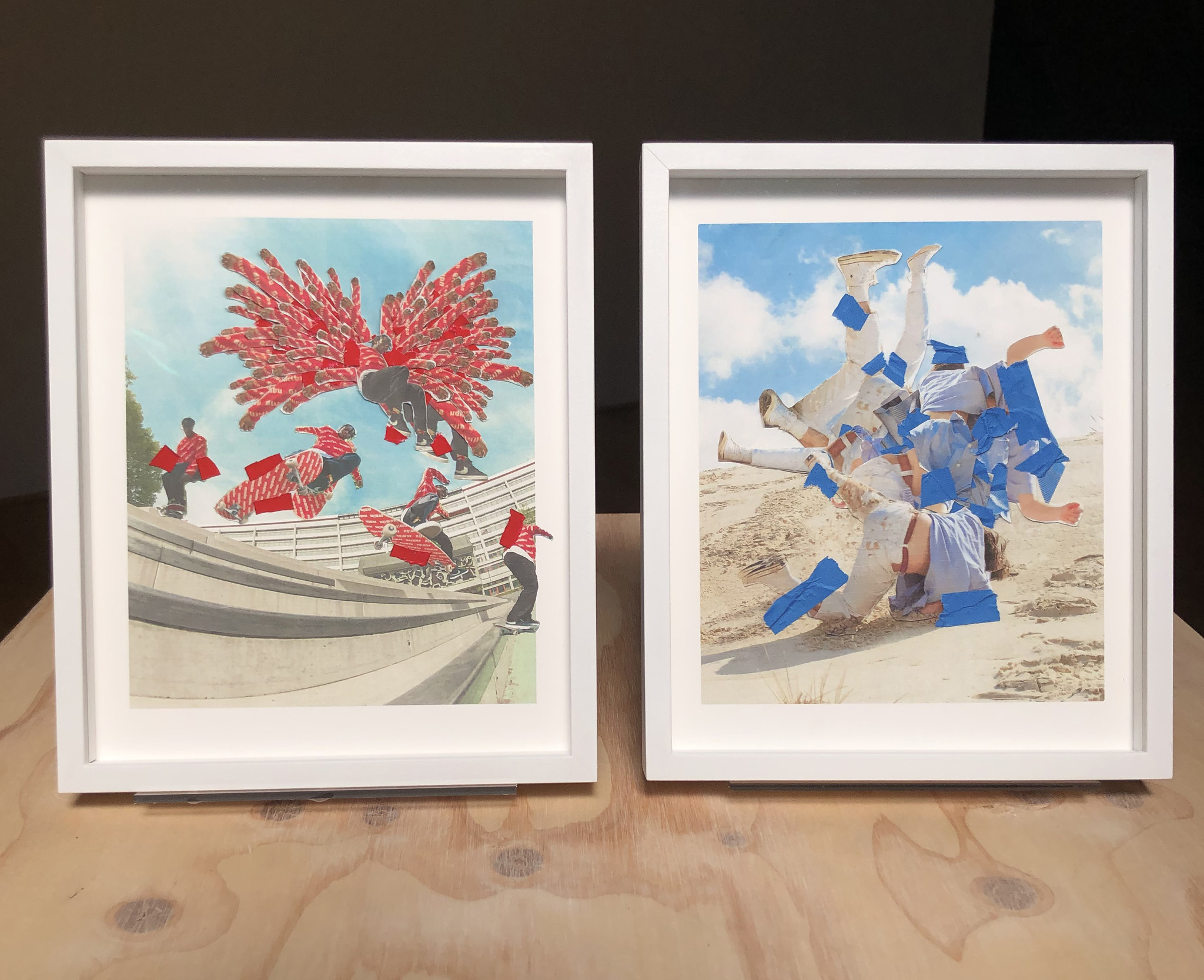 ABOUT THE WORK
"I see my collages as an image sequence. Because I have a background as a skateboarder and filmer, I also think in motion. The next step was how I could translate my videos into photography. With skateboard photos you often see image sequence photos that every step of the trick indicates from start to finish. My collages have a similar idea. They give the impression of movement and tell a story in combination with composition, color and mixed media. The cut and paste effect gives the work a playful DIY analog feel. The fact that it is not neatly cut out gives my work the spontaneity that I want it to radiate. The collages always arise from an idea and with a planning, but the elaboration is purely intuitive."

A small, deep frame has been chosen for the framing of this digital reproduction of a collage, so that the work can also be displayed as an object.

ABOUT THE PHOTOGRAPHER
Kirwin Lonwijk is a young visual artist, filmmaker and photographer, living in Almere (NL). Although he is still studying at the Willem de Kooning Academy in Rotterdam, he has already completed several commercial assignments and has several video clips to his name. He is best known for his collage technique.
ABOUT THE FIRST EDITIONS
The First Edition is an unique chance to buy work by young talent for an attractive price. Four times a year Foam Editions presents a new photographer, carefully selected by Foam Editions. With this initiative Foam Editions facilitates a connection between young photographers and (potential) collectors. Previous First Editions were made by among others Paul Cupido, Sem Langendijk, Kevin Osepa, Lisette Appeldorn, Sarah van Rij and Suzette Bousema.

This set of Kirwin Lonwijk is exclusively for sale at Foam Editions for a limited period of time: until the 12th of September 2021.

ABOUT BUYING THIS WORK
The framed print will be carefully wrapped and send as an insured package. You will receive an e-mail with a Track & Trace code when the package is on its way. A copy will soon be on display at Foam Editions, the gallery on the third floor of Foam Fotografiemuseum.
For more information or questions about buying this print, please contact the Foam Editions team.

T. +31 (020) 5516500
E. [email protected]