Lana Prins - Undertow, 2016
Inkjet print, framed in white wooden frame with art glass
20 x 30 cm
Edition of 100
Signed and numbered on a separate label

ABOUT THIS WORK
Lana Prins is fascinated by the texture of water and this is often visible in her work. In this work with a floating human body it results in an abstract-looking image. Under the surface of the sea, a different perception arises. The title of the photo refers to the power of the unknown. That which you cannot see immediately but what you can feel.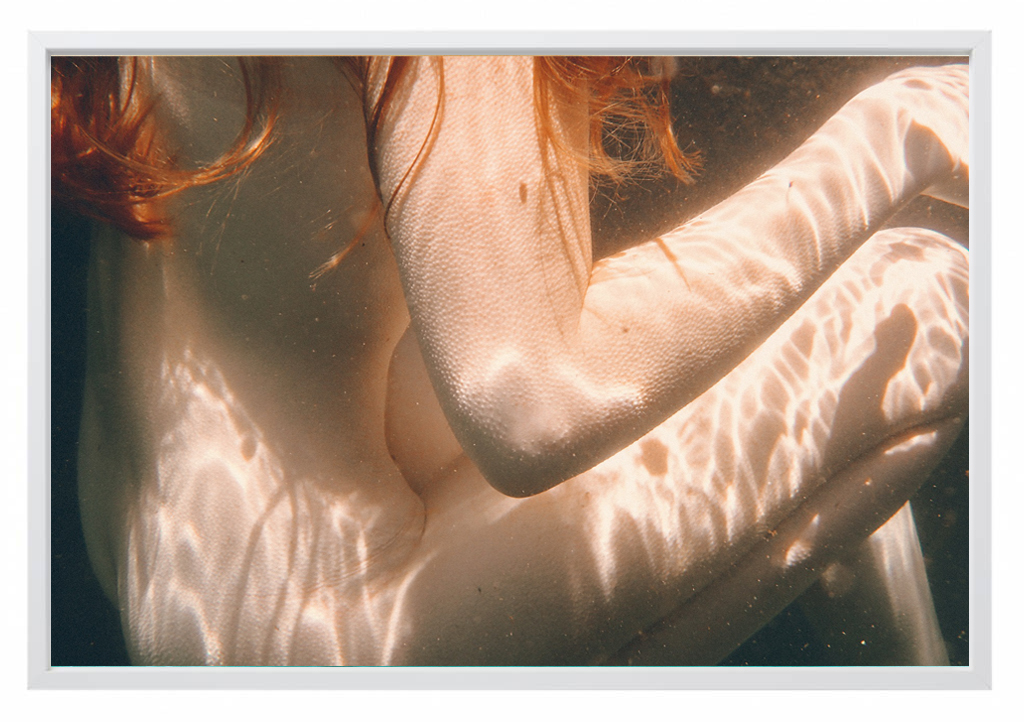 *the colour of the frame will be slightly different. A photo of the framed version will follow soon.
The frame is 1 cm wide.

ABOUT THE PHOTOGRAPHER
Growing up in a small town near the sea, Lana Prins (1993, NL) has always romanticized the world around her. She makes intimate self portraits, portraits her close friends and does fashion stories as well. Through her photos Prins shows us stories in which the dividing line between reality and fantasy fades. By not giving everything away immediately, she challenges the viewer to let his or her imagination run wild and shape the course of the story themselves. Her photography is close to the skin and shows an intimate view into her life and that of the people around her. Within her work you can find both cinematically staged photos and snapshots of everyday life.
Lana Prins currently studies photography at the Willem de Kooning Academy in Rotterdam and will graduate later this year. 

ABOUT FIRST EDITIONS
The First Edition is an unique chance to buy work by young talent for an attractive price. Every two months Foam Editions presents a new photographer, carefully selected by Foam Editions. With this initiative Foam Editions facilitates a connection between young photographers and (potential) collectors. Previous First Editions were made by among others Anna de Jong, Niels Moolenaar, Alexandra Hunts, Hishaam Eldewieh, Paul Cupido and Sem Langendijk.
These works by photographer Lana Prins are exclusively for sale at Foam Editions until 15 April 2018.

ABOUT BUYING THIS WORK
The framed work will be carefully wrapped and then shipped as an insured package. You wll receive an e-mail with a Track & Trace code when the package is on its way.
This work is on display and for sale at Foam Editions, the gallery on the third floor of Foam Fotografiemuseum. If you have any questions about buying this work, please contact the Foam Editions Team.

T. +31 (020) 5516500
E. editions@foam.org