Marta Capilla Urbano - Making of a Floor (Cherry Chaos/Cherry Teased II), 2020
From the series Making of a Floor
Inkjet print, framed in a wooden frame with art glass
Print: 27 x 21,6 cm, frame: 31 x 25 x 3 cm
Edition of 100
Signed and numbered on a separate label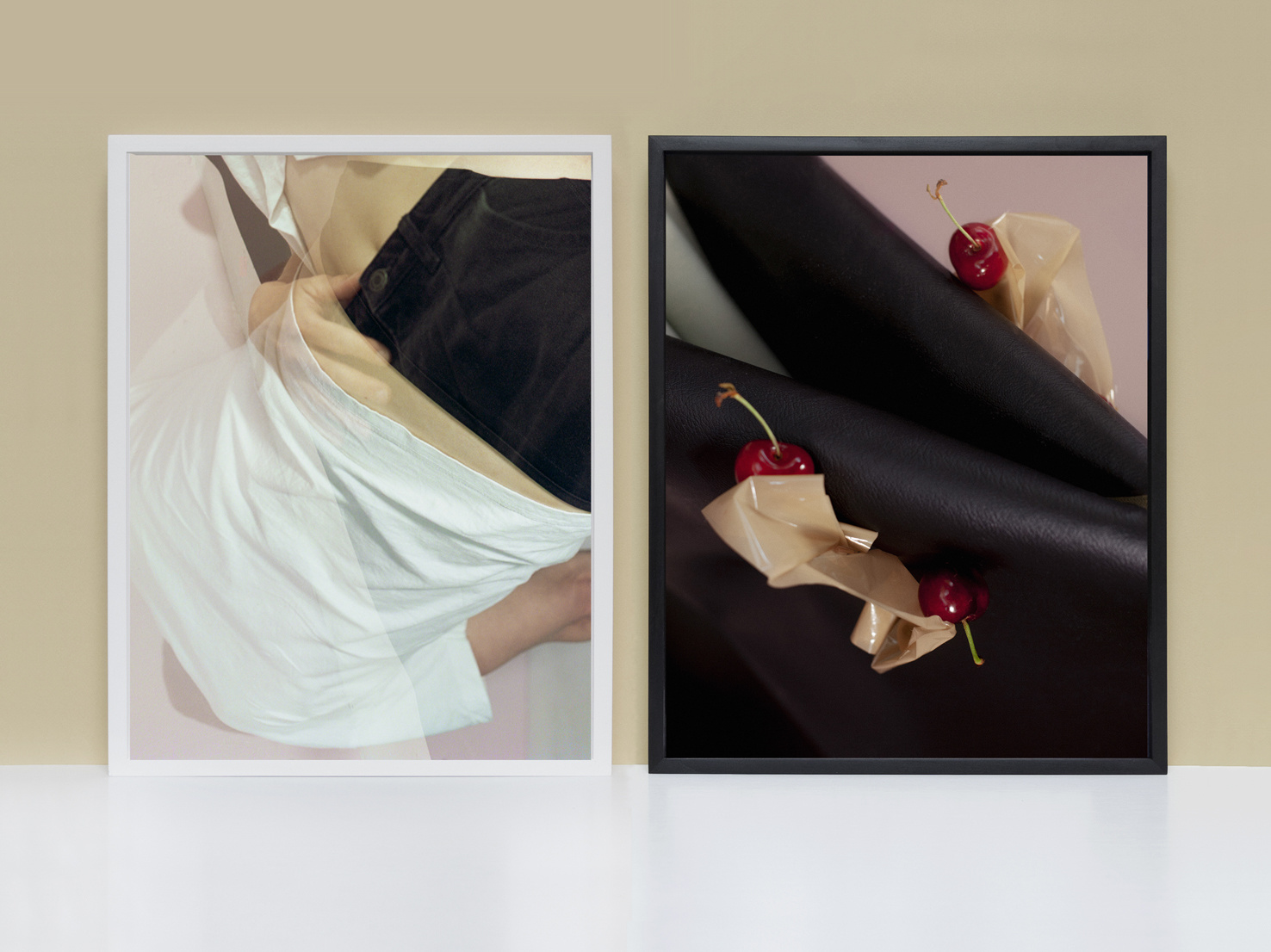 ABOUT THIS WORK
A floor is an element of support; a given structure that grounds the space we occupy and from where we hold our views. A floor can be a psychological space that structures beliefs and gives sense. By moving upon floors we seek, take positions. By moving upon floors, relationships arise between what we come into contact with. Relationships are created through what happens in-between.
Making of a Floor is a collection of photographs discovering one's perspective. A study of orientations (or disorientations) where images link body to body, to objects and space.

ABOUT THE PHOTOGRAPHER
Marta Capilla Urbano (Las Palmas de Gran Canaria, 1988) is an artist based in The Netherlands. Her work is a study upon the physical and psychological perspectives in relation to subjects and objects she is surrounded by. Graduated with a BA in Film Studies at Complutense University of Madrid, she completed a BFA Photography at the Gerrit Rietveld Academie in 2020.
The graduate work of Marta Capilla is part of the exhibition Gerrit Rietveld Academie - The Graduation Show that is on display in Foam from 18 September until 1 November 2020. 

ABOUT FIRST EDITIONS
The First Edition is an unique chance to buy work by young talent for an attractive price. Four times a year Foam Editions presents a new photographer, carefully selected by Foam Editions. With this initiative Foam Editions facilitates a connection between young photographers and (potential) collectors. Previous First Editions were made by among others Paul Cupido, Sem Langendijk, Kevin Osepa, Lisette Appeldorn, Sarah van Rij and Suzette Bousema.

The two works by Marta Capilla Urbano are exclusively for sale at Foam Editions for a limited period of time: until the 29th of November 2020.

ABOUT BUYING THIS WORK
The framed work will be carefully wrapped and then shipped as an insured package. You will receive an e-mail with a Track & Trace code when the package is on its way. The current waiting time is about one week.
This work is on display and for sale (when in stock) at Foam Editions, the gallery on the third floor of Foam Fotografiemuseum. If you have any questions about buying this work, please contact the Foam Editions Team.
T. +31 (020) 5516500
E. [email protected]