Sarah van Rij - Moving Feet, 2018
Inkjet print
Framed with a passepartout and art glass
Print: 30 x 20 cm
Edition of 100  + 2AP

ABOUT THE WORK
Working intuitively, and observing her chosen territory closely, self-taught photographer Sarah van Rij (1990, the Netherlands) documents fleeting fragments of life on the street. Van Rij's images convey a clear visual signature defined by a number of recurring elements, including careful framing; experiments with perspective; touches of vivid colour; and traces of human forms. Her work draws influences from various artistic fields – from painting to cinema – whilst building upon rich and longstanding photographic traditions for capturing the subtle beauty found in the everyday. Whilst van Rij's images are inherently contemporary (a number of photographs are shot on the artist's iPhone), it is often difficult to place them in time: with the occasional exception, her subject matter is largely devoid of any temporal indicators, lending her work an ageless feeling and evoking nostalgia for times gone by.

The two prints available via Foam Editions represent the bookends of a period van Rij spent in Paris in October 2018: respectively, they are the first and last images she produced during the trip.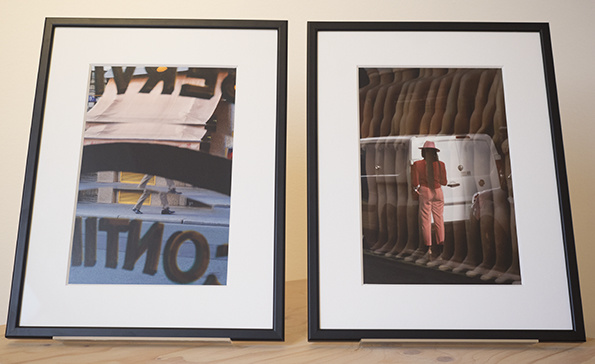 ABOUT THE PHOTOGRAPHER
Sarah van Rij is a professional photographer based in both Amsterdam and Paris. As a creative director at clothing and design store Hutspot, Van Rij developed her talent for photography. Nowadays she focuses entirely on working as a freelance photographer and art director. She makes free work but also collaborates in projects for, among others, Vrij Nederland, The Last Magazine, Pigalle Paris and JACQUEMUS.

ABOUT FIRST EDITIONS
The First Edition is an unique chance to buy work by young talent for an attractive price. Four times a year Foam Editions presents a new photographer, carefully selected by Foam Editions. With this initiative Foam Editions facilitates a connection between young photographers and (potential) collectors. Previous First Editions were made by among others Niels Moolenaar, Alexandra Hunts, Paul Cupido, Sem Langendijk, Alexander Sporre, Lisette Appeldorn and Vytautas Kumža.

From 12 September onwards, the two works by Sarah van Rij are exclusively for sale at Foam Editions for a period of two months: until 10 November of 2019.

ABOUT BUYING THIS WORK
The framed work will be carefully wrapped and then shipped as an insured package. You will receive an e-mail with a Track & Trace code when the package is on its way. The current waiting time is about one week.
This work is on display and for sale (when in stock) at Foam Editions, the gallery on the third floor of Foam Fotografiemuseum. If you have any questions about buying this work, please contact the Foam Editions Team.

T. +31 (020) 5516500
E. [email protected]