Stefanie Moshammer - Tomorrow of Yesterday
Special Edition Box
10 signed prints (28 x 20 cm)
1 signed booklet (21 x 14 cm)
Edition of 15+3AP 

A selection of 4 prints is for sale for € 1000,00. If you would like to buy this smaller selection, please contact the Editions Manager, Lotte Klösters at [email protected].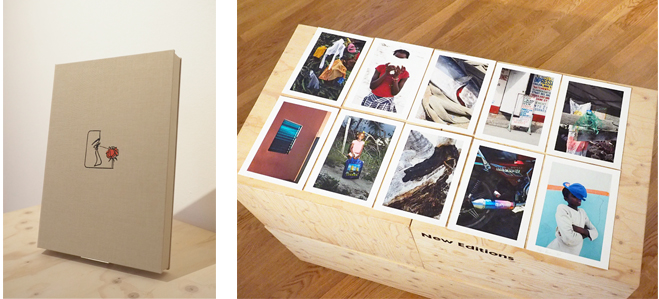 ABOUT THE WORK
In November 2016 and March 2017 Stefanie Moshammer visited the Haitian island Île-à-Vache (Cow island). What looks like the Caribbean dream straight from a stock photograph, with waving palms and white beaches, is also a place of unfulfilled promises. Besides the beautiful surroundings of the deep blue ocean, bright green nature and colourful streets, cities and sea shores are also coloured by litter and waste, from plastic bottles and bags to polystyrene wrappings. In her series Tomorrow of Yesterday, Stefanie Moshammer researches notions of paradise, between Western ideals, yesterday's promises, and the everyday lives of the people who live there.

The box (30 x 22,4 x 3,4 cm) is specially hand-made and contains ten signed Fine Art prints (21x28cm), as well as a signed booklet with o.a. a text by Foam curator Mirjam Kooiman.


ABOUT THE PHOTOGRAPHER
Stefanie Moshammer (Vienna, 1988) received a Bachelor of Arts in Graphic Design and Photography at the University of Arts and Design in Linz and attended the BA in Advanced Visual Storytelling at the Danish School of Media and Journalism. Moshammer devotes herself to visual storytelling, playing on the boundary between documentary and art. In her visual style she challenges the viewer by adding non-existing layers to the existing world, playing with the concept of reality and imagination. Her first photobook Vegas and She was published by Fotohof in 2015 and was shortlisted for the Author Book Award of the Festival Rencontres d'Arles. Her work has been published often and internationally and has been exhibited in Portugal, France, Austria, Italy, Ireland and the Netherlands. In 2016 her work was part of the Talent Issue of Foam Magazine and the internationally travelling exhibition Foam Talent. In 2018 her exhibition Tomorrow of Yesterday was on show at Foam 3h. Stefanie Moshammer is the first recipient of the Florentine Riem Vis Grant.

ABOUT BUYING THIS WORK
The box will be carefully wrapped and send as an insured package. You will receive an e-mail with a Track & Trace code when the package is on its way. An edition of this box is on display at Foam Editions, the gallery on the third floor of Foam Fotografiemuseum.
For more information or questions about buying this work, please contact the Foam Editions team. 
T. +31 (020) 5516500
E. [email protected]