Stelios Kallinikou - Rock formation 3, 2017
Archival Pigment print
40 x 26 cm
Edition of 10+2AP
Signed, titled, dated and numbered on a label

ABOUT THE WORK
A sense of continual exploration of national identity typifies the body of work of Cypriot photographer Stelios Kallinikou (Limassol, 1985), who creates magical and beautiful images that are deeply rooted in the Cypriot landscape. The landscape, as a result of our collective action, becomes a vehicle for his thoughts on place, history, time and space –all fundamental issues related to human nature.
Kallinikou's ongoing series Studies in Geology presents a group of photographs taken in an ancient mine hidden in the pine forests of Troodos Mountains, the largest mountain range in Cyprus. Based on archaeological excavations, mining activity in Cyprus can be dated back to the 3rd century BC. The presence of a large number of valuable minerals and useful, raw materials has made mining in the area attractive throughout the ages. This influenced the course of history and the interference of foreign powers on the island.
Kallinikou enters the crater of the mine and the resulting lake to observe the earth as an open body. He meticulously examines the ground and the surface of the lake for traces of human gesture as it has been inscribed throughout time. The result is a fascinating series at the edge of photography and painting in which Kallinikou is in constant dialogue with the act of seeing whilst considering new possibilities and limitations of the photographic medium.
The exhibition Foam 3h: Stelios Kallinikou - Studies in Geology was on display in the summer of 2018.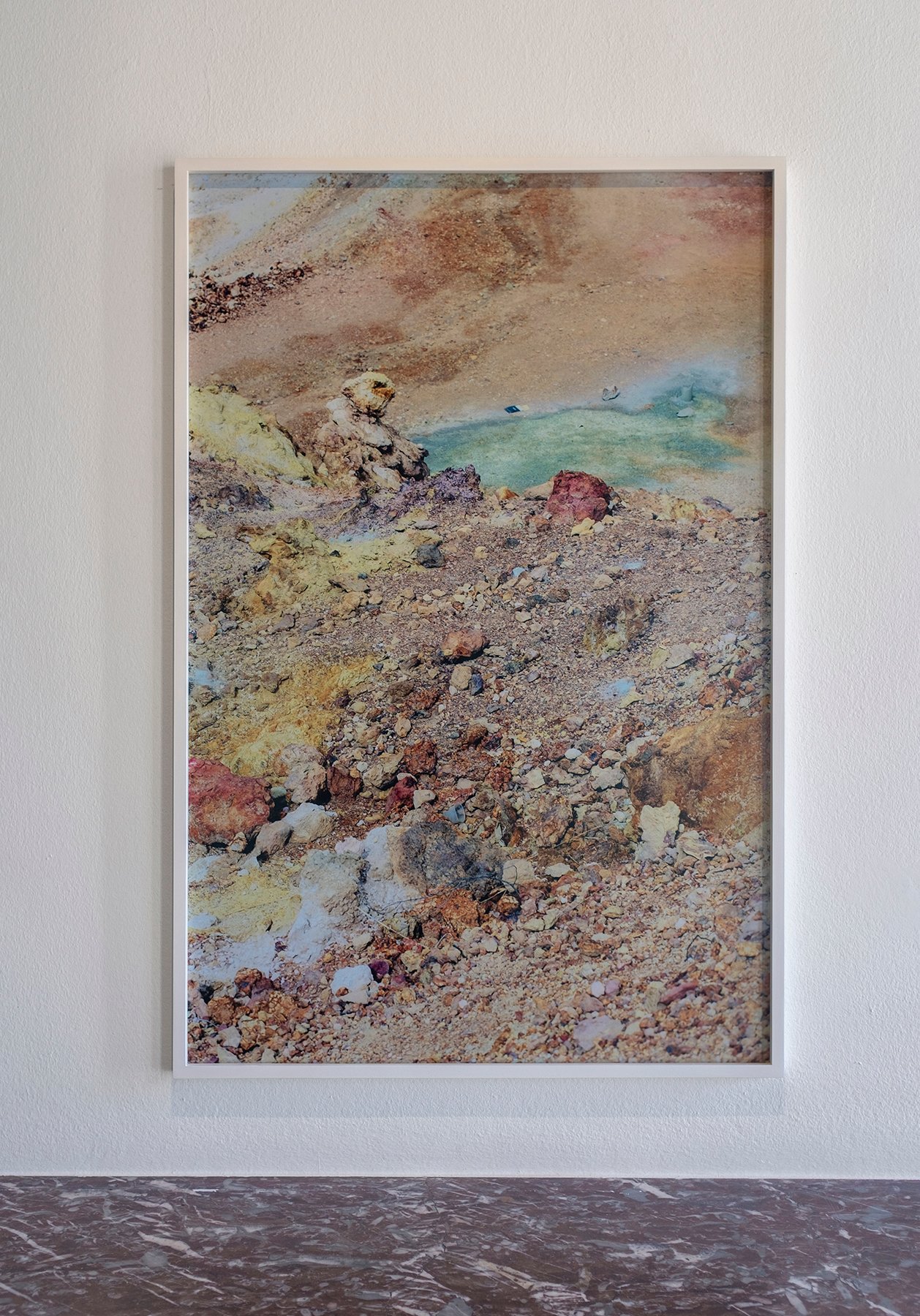 * This is the work in the exhibition. The same framing will be used for the smaller Foam Edition.

ABOUT THE PHOTOGRAPHER
Stelios Kallinikou studied in Tessaloniki, Greece, and returned to Cyprus after his studies. Since then he has shown his work in European galleries and festivals and he was nominated for several awards. 

ABOUT BUYING THIS WORK
This work can only be bought framed. The framed work will be carefully wrapped and send as an insured package. You will receive an e-mail with a Track & Trace code when the package is on its way. A copy is often on display at Foam Editions, the gallery on the third floor of Foam Fotografiemuseum.
For more information or questions about buying this work, please contact the Foam Editions team.
T. +31 (020) 5516500
E. [email protected]