Sterre Arentsen - Periphery, 2021
Inkjet print on satin paper, framed in a black wooden frame with art glass
Image: 27 x 17,5 cm
Edition of 100 + 10 AP
Signed and numbered on a separate label

ABOUT THIS WORK
"My memories have never been vivid. When I look at old photos of myself, I am often left astonished. As if I look at a completely different person, in a scene I haven't seen before. It is a sensation I wish to convey with my work. I want to be guided by my intuition, to such an extent that I won't be able to remember when and where an image was shot subconsciously. Colours and shapes form the foundation of surrealistic associations, filling my archive with timeless memories."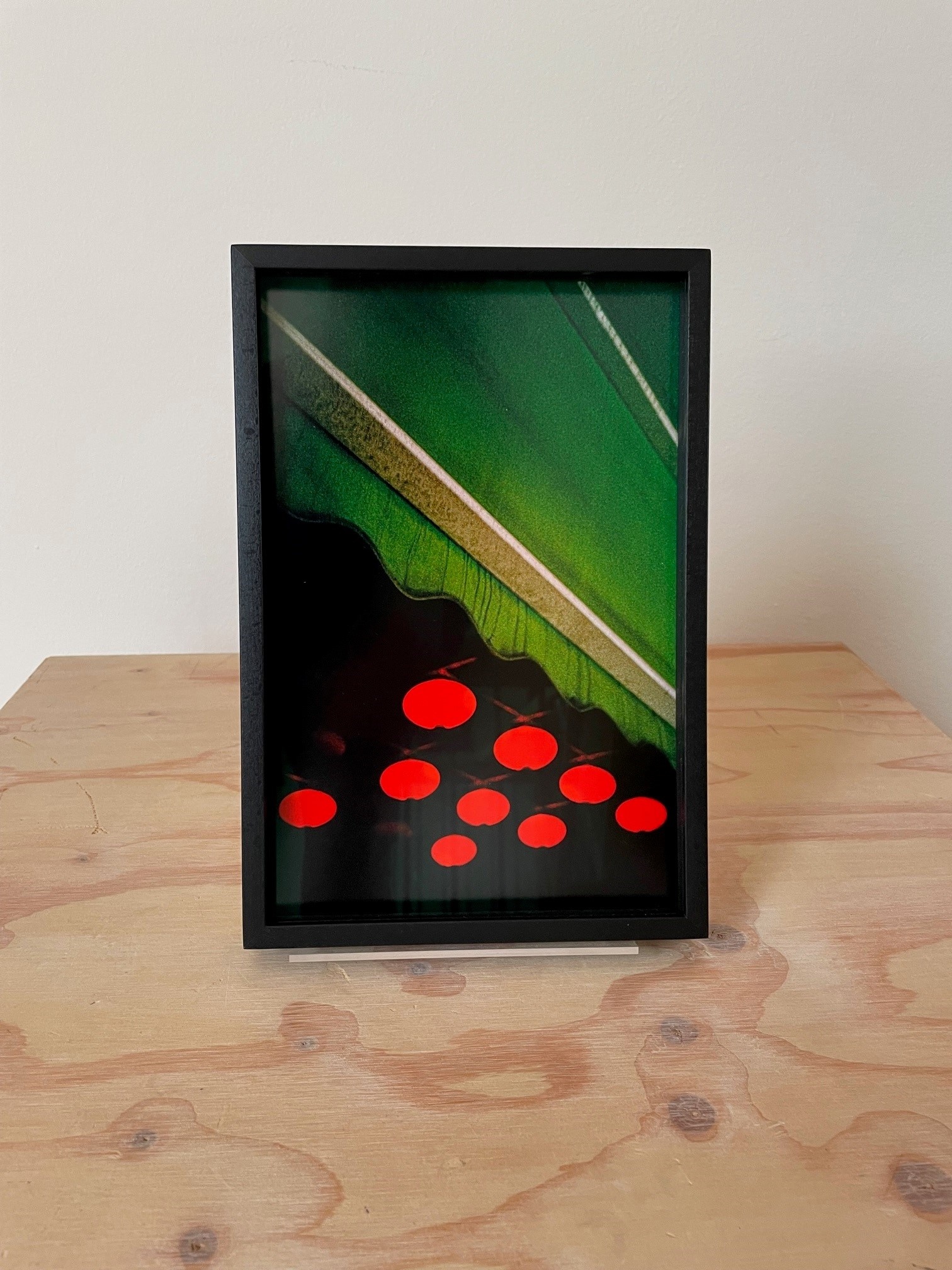 ABOUT THE PHOTOGRAPHER
Sterre Arentsen is a Dutch artist specialized in photography. In her work she explores the relation between humans and nature, but people rarely appear in her pictures. Instead, she shows lifeless objects that bear a trace of humanness, often carried by an air of melancholy. Various analogue techniques allow her to extract more from a scene that meets the eye at first glance, turning the world inside out.
Arentsen graduated from the ArtEz academy in Enschede in 2022 and is currently based in Berlin (DE). 

ABOUT THE FIRST EDITIONS
The First Edition is a unique chance to buy work by young talent for an attractive price. Four times a year Foam Editions presents a new photographer, carefully selected by Foam Editions. With this initiative Foam Editions facilitates a connection between young photographers and (potential) collectors. Previous First Editions were made by among others Paul Cupido, Sem Langendijk, Kevin Osepa, Lisette Appeldorn, Sarah van Rij and Suzette Bousema.

This set of Sterre Arentsen is exclusively for sale at Foam Editions for a limited period of time, until 30 April 2023. 

ABOUT BUYING THIS WORK
The framed print will be carefully wrapped and send as an insured package. You will receive an e-mail with a Track & Trace code when the package is on its way. A copy will soon be on display at Foam Editions, the gallery on the third floor of Foam Fotografiemuseum.
For more information or questions about buying this print, please contact the Foam Editions team.

T. +31 (020) 5516500
E. [email protected]