Victoire Eouzan - Ici, le temps s'étire, 2020
Ici, le temps s'étire (The time stretches here)
From the series Cette Vue Que Je N'aurai Plus (This view that I will no longer have)
Inkjet print, framed in a wooden frame with art glass
Print: 29 x 19,5 cm, frame: 30,2 x 20,5 cm
Edition of 100
Signed and numbered on a separate label

We currently have a short waiting time. The next framed works will be ready by approx. April 15th.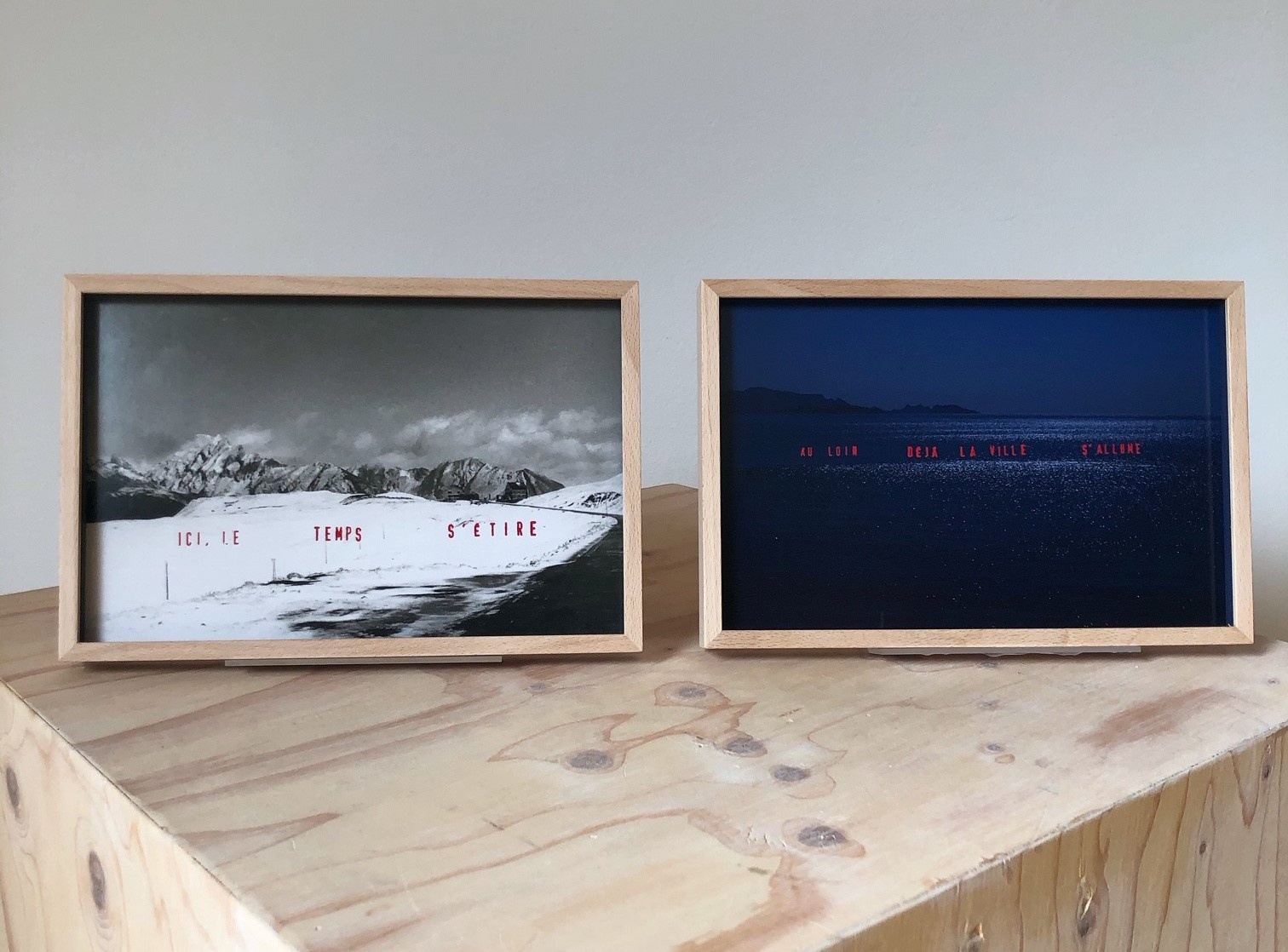 ABOUT THIS WORK
When facing the sea
Curtains are flying away
Window shutters slamming
Feet stomping on the ground
And the ever-present backwash
Is the only trace of the world.
Capture time,
This moment that never settles down.
A moment that is first perceived.
— and then becomes obvious. 

ABOUT THE PHOTOGRAPHER
Victoire Eouzan is a French artist who experiments with the places she passes through as subjects of contemplation.
She is as enthusiastic about the beauty of these places as she is about the idea of making the images suggest more than what they are. She questions the meaning and representation of images by combining them or layering short poems onto them. She likes the viewer to question what these images actually represent.
The events of her personal life feed her work, Victoire Eouzan maintains a rather singular relationship with time, especially with the present. She experiences it in its fugacity as well as in its elasticity.
Eouzan studied at the Gerrit Rietveld Academie in Amsterdam and the Arts Décoratifs in Paris from which she graduated in respectively 2019 and 2020. In 2019 she was selected for the Haute Talent program, which included a presentation at the Haute Photographie Fair in Rotterdam in February 2020.

ABOUT FIRST EDITIONS
The First Edition is an unique chance to buy work by young talent for an attractive price. Four times a year Foam Editions presents a new photographer, carefully selected by Foam Editions. With this initiative Foam Editions facilitates a connection between young photographers and (potential) collectors. Previous First Editions were made by among others Paul Cupido, Sem Langendijk, Kevin Osepa, Lisette Appeldorn, Sarah van Rij and Suzette Bousema.

The two works by Victoire Eouzan are exclusively for sale at Foam Editions for a limited period of time: until the 2nd of May.

ABOUT BUYING THIS WORK
The framed work will be carefully wrapped and then shipped as an insured package. You will receive an e-mail with a Track & Trace code when the package is on its way. 
This work is on display and for sale (when in stock) at Foam Editions, the gallery on the third floor of Foam Fotografiemuseum. If you have any questions about buying this work, please contact the Foam Editions Team.
T. +31 (020) 5516500
E. [email protected]