Marnix Goossens, Yonder, 2013
Book Yonder (2013) and one Ultrachrome Archival fine art print 
Size print: 33 x 27,5 cm / image: 30 x 24 cm 
Total edition of 90 + 10 AP

Choice between three prints: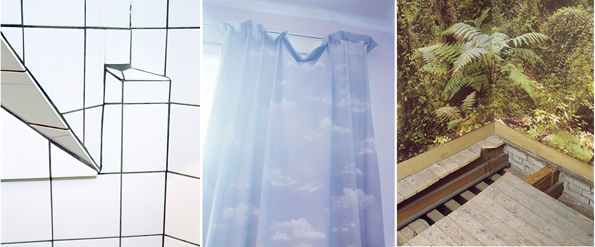 In 2013 Yonder, the new book of renowed Dutch photographer Marnix Goossens, was launched together with an exhibition in Foam. In Yonder Goossens concentrates on surrogate nature in slightly run-down interiors, showing man's secret yearnings for exotic destinations and snow-covered mountains in the form of palm-print wallpaper and decorative posters.

The book Yonder, published by Roma Publications is designed by Remco van Bladel and with text from Maria Barnas. Earlier books of Goossens are included in The Dutch Photobook (eds Frits Gierstberg en Rik Suermondt) and became instantly modern classics.

ABOUT THE WORK
The work of Marnix Goossens is based on three key themes: nature, portraits and still life. Most of his photographs represent natural scenes. Herewith, Goossens focuses on the floral beauty and nature to be found in the human habitation. By the use of a technical camera, his photographs result in detailed, highly concentrated images.

ABOUT THE PHOTOGRAPHER
Marnix Goossens (b. 1967) lives and works in Amsterdam. He studied at the Hogeschool voor de Kunsten in Utrecht, Autonome Beeldende Kunst Ateliers in Arnhem and was a resident of the Rijksakademie voor Beeldende Kunsten in Amsterdam. His work has been showcased in numerous (inter)national exhibitions, amongst them Stedelijk Museum Amsterdam, Huis Marseille Amsterdam, Institut Néerlandais and Maison Européene de la Photographie in Paris, Neue Pinakothek Munich and Aperture Foundation in New York.

ABOUT BUYING THIS WORK
The print and book will be carefully wrapped and send as an insured package. You will receive an e-mail with a Track & Trace code when the package is on its way. A framed copy of two of the three prints is on display at Foam Editions, the gallery on the third floor of Foam Fotografiemuseum.

For more information or questions about buying this work, please contact the Foam Editions team.
T. +31 (020) 5516500
E. editions@foam.org